Thank you for joining us for the
2021 Nantucket Daffodil Season Virtual Celebrations!
Check back in January for details on 2022 DaffodilFestival.com
The above videos were taken at previous Nantucket Daffodil Festival Events.
Virtual and Social Distancing Events 2021
Due to the COVID-19 pandemic and state and town restrictions, the Nantucket Island Chamber of Commerce, organizer of the annual Nantucket Daffodil Festival, had to cancel the 2021 Daffodil Festival in-person gatherings. In its place, the Chamber presented a spring initiative called Help Our Businesses Bloom and worked with Nantucket.net & other island organizations to present virtual activities on this website.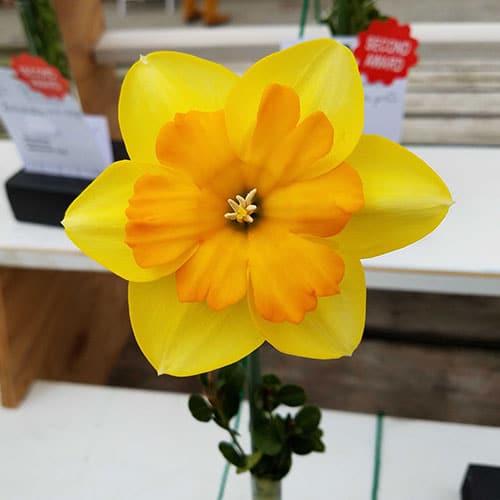 Did you grow the perfect daffodil, create a bright daffodil arrangement, or take a stunning daffodil photo? All of the above? Share them by entering the Nantucket Garden Club's virtual Daffodil Show!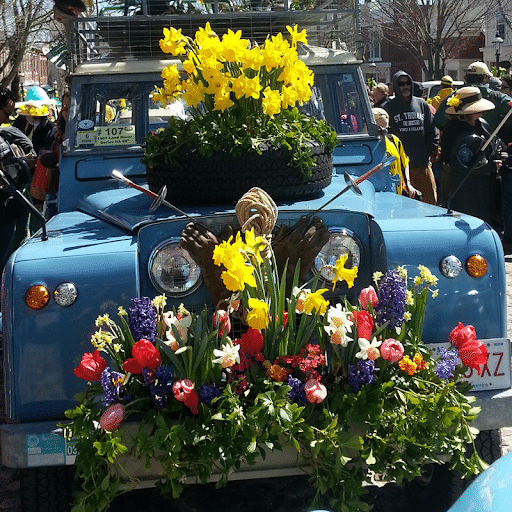 Decorate your antique car in Daffodil Festival style, don your daffy best, and go for a drive. Upload a photo of your decorated car or Daffy, and plan to attend in-person next year!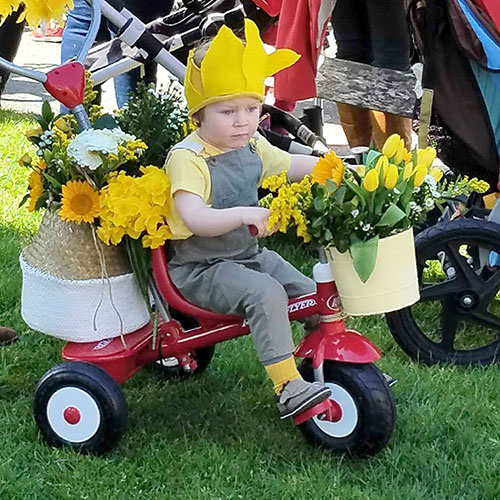 Help your children adorn their bikes with daffodils and go for a ride on one of our island's beautiful bike paths (or where ever you are located)! Upload a photo of your decorated bike!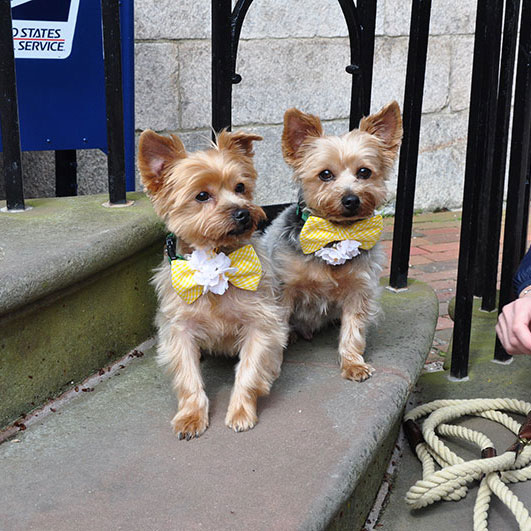 Dogs, cats, bunnies . . . when the Daffy Pet Parade is virtual, any animal can participate! Upload photos of your animal donning their Daffy Best. NiSHA will choose winners, and Geronimo's will provide prizes.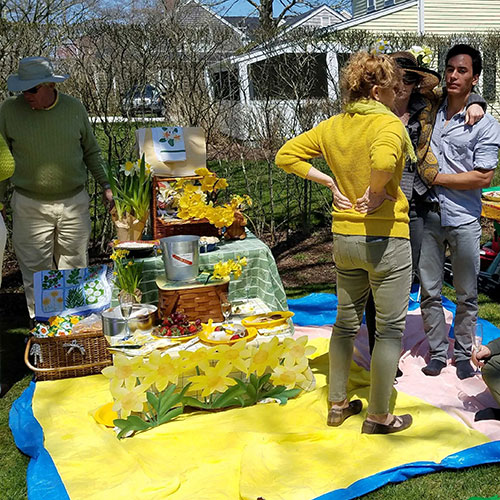 Order a daffodil inspired picnic from a Nantucket restaurant, takeout establishment, or bakery, and enjoy it at your favorite island park or beach or your own back yard!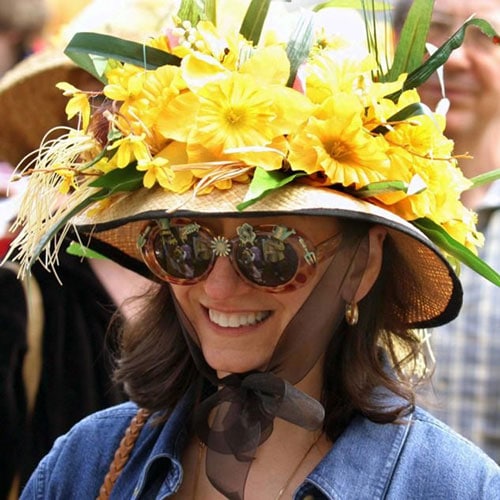 Dress Daffy – simple or elaborate -- we love to see your festive Daffodil Festival hats! Take a selfie or a group photo and share it with us for the 2021 virtual show.
History of Nantucket's Daffodil Festival
A few years after the Nantucket Garden Club started the Nantucket Daffodil Show, several involved community members decided to organize a classic car parade followed by a tailgate picnic that same spring weekend. The first year, 19 cars participated in the "First Annual Nantucket Garden Club Vintage Motor Car Outing" on April 22, 1978. By 1981, more than 35 antique vehicles were showcased in the parade, and just two years later, 80 cars were registered and 40 more crashed the party. With no parade or picnic this year, the Chamber invites the public to decorate their antique cars for Daffy, take a picture, and enter it on this website for a 2021 virtual parade.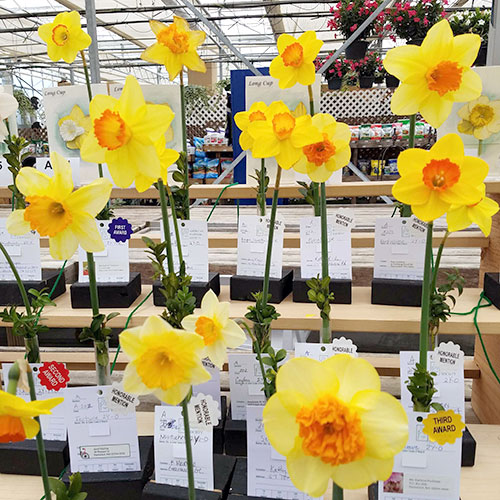 Nantucket Garden Club Daffodil Flower Show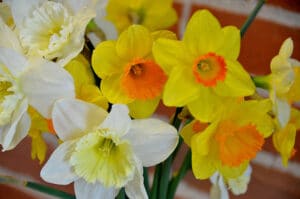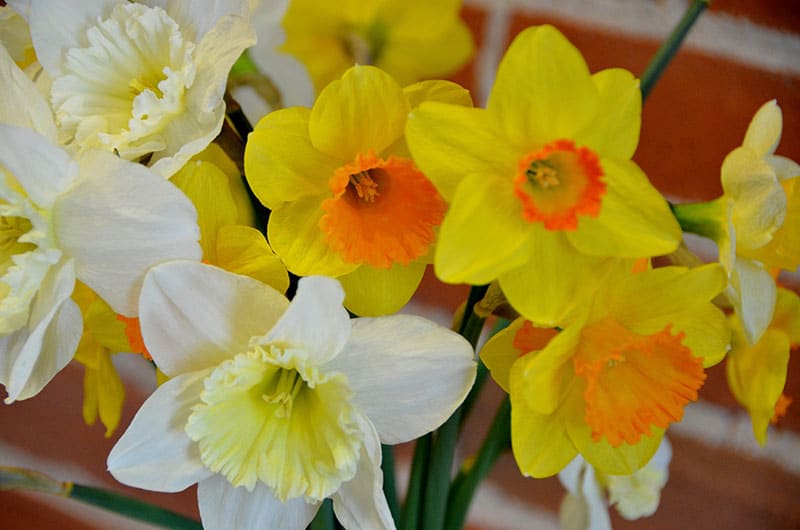 I wandered lonely as a cloudThat floats on high o'er vales and hills,When all at once I saw a crowd,A host, of golden daffodils. William
Read More »
Each year, Nantucket's Daffodil Festival Weekend brings abundance upon the island. Millions of daffodils bloom; the visitor season begins; antique cars arrive in droves; and extra ferry trips added to the schedules!
Yesterday's Island ,Today's Nantucket
The Flower Power Party was established in 2018, in partnership with N Magazine, to benefit the Nantucket Historical Association.  This blooming event has transformed into the ultimate kick-off to Daffodil Weekend over the past few years. 
With in-person gatherings being cancelled due to pandemic restrictions, many island non-profit organizations have not been able to host their usual fundraising events. They depend on donations to continue their many efforts that benefit our island community. Below are some details on three of these organizations, what they do for Nantucket, and how you can make a donation to help them with their good works.